Drove out to the Inland Empire on Saturday to skate with Leo, Marquis, Miner, Cricket, Timothy, and Sean Petersen.

Leo got a haircut.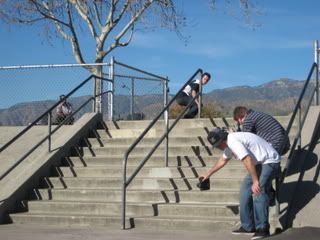 Leo rolling up goofy...

Despite grating his hands on the cheese grater ground, Leo nailed his trick.

Leo's roommate Cricket throwing up the horns?

Who knew Marquis was an entrepreneur?

Marquis about to connect with a crooks.

Miner and Marquis catching up on all of the hot skate gossip.