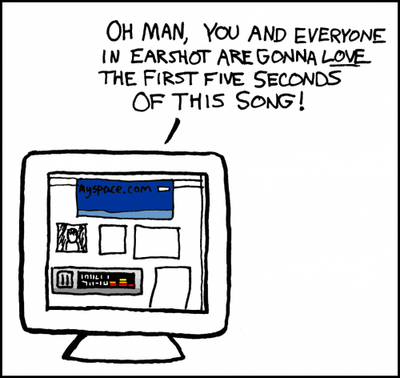 Fuck.
The other day I realized how easy I become totally addicted to all these trendy, horrible online communities.
It started back in 2003, when I joined the Emerica Blab.
I began going there every day, posting stupid shit.
Eventually I joined MySpace, which was somewhat new at that point, I think. And it was bad.
I let it go at some point, but I'm falling right back in.
MySpace, Facebook (sigh), Last.fm, RateYourMusic, Flickr. And that's not counting the huge number of messageboards, instant messengers and the likes.
I spend ridiculous amounts of time on the intertubes.
And how much of that time is spent on those above sites? I'm afraid to answer that question.
Then again, I log on, check if something new's happening. That's usually not the case, so I move on the next site, and so on.
I'm realizing that I'm maybe becoming one of those people that I've never wanted to be. One of those people whose personality is being reflected 100% in their MySpace or Facebook profile.
It's the growing online-neo-narcissistic trend that's got me by the balls. And I can't go back.